ABOUT

Federico Tarazona
Renowned for his exciting interpretation, extraordinary technique and musical expression, Federico Tarazona is considered one of the world's finest Andean charango virtuosos, and one of the most important contemporary Peruvian composers working today.
He began his musical studies at the age of eight on the violin and piano with his father and sister respectively. Later, he pursued classical guitar with Ricardo Barreda and composition with Walter Casas and Edgar Valcarcel at the Lima Conservatory in Peru. He subsequently studied composition with Genady Belov at the Saint-Petersburg Conservatory in Russia, guitar with Sonja Prunnbauer under a KAAD scholarship at the Freiburg Musikhochschule in Germany, electro-acoustic music composition at the Bordeaux Conservatory in France, and a Masters Degree in composition at the Laval University in Québec City, Canada.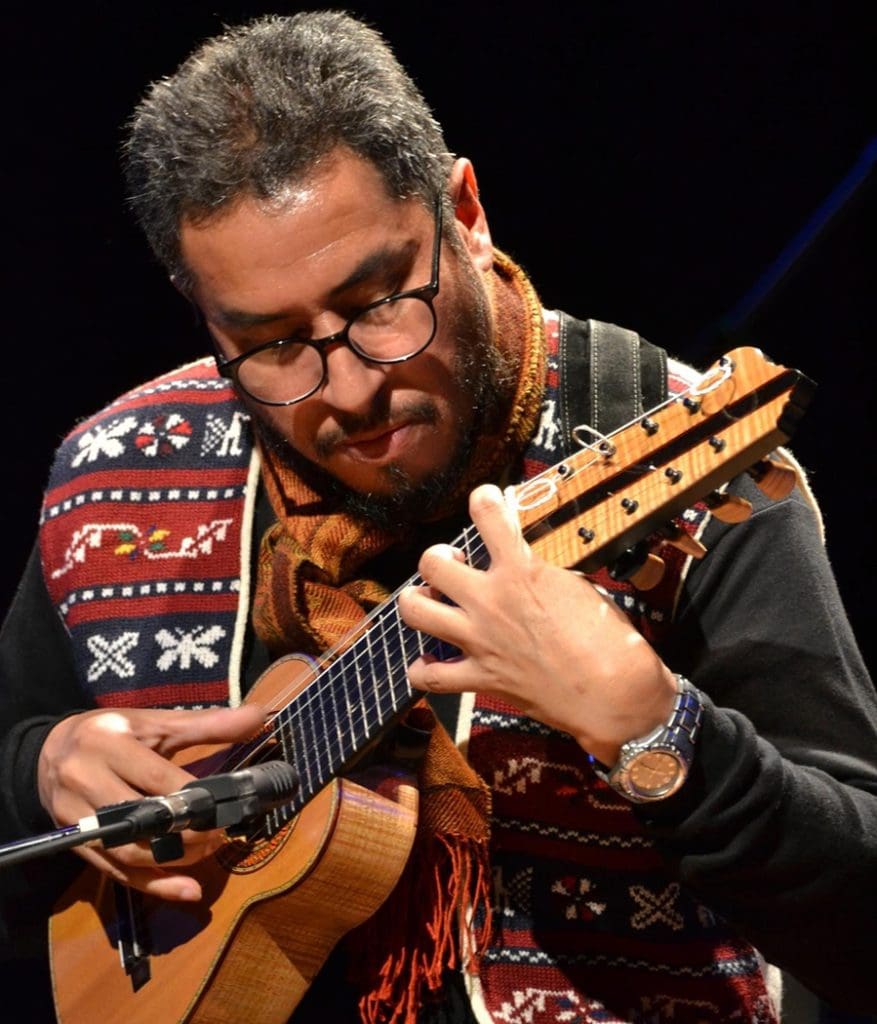 Equally at home in both classical and folkloric musical genres, Mr. Tarazona is an authority on traditional Peruvian charango styles and traditions. He has adapted techniques from his classical guitar studies and applied them to his "Hatun" 8 strings charango, allowing him to perform Latin-American and European works written for or transcribed from the vihuela, lute, guitar and violin.
He has performed at festivals and concert series' throughout North and South America, Europe, and North Africa; he has collaborated with choruses and ensembles including the National Symphony Orchestra of Peru, the University Symphony Orchestra of Strasbourg, France, and the Argentine National Symphony Orchestra.
Mr Tarazona always integrates instruments and elements of Andean culture into his work. An avid composer, he has written orchestral music, concertos, chamber music, solo instrumental works, and electro-acoustic music.
Mr. Tarazona has been the recipient of numerous honors and awards for his contribution to Classical Music and to Peruvian Culture. In 1995, he won the "National Composition Prize" from the National Conservatory in Lima. And in 1997, he won the "Southern Peru Prize for Composition". In 2008, he was granted an honorary medal from the Peruvian Education Ministry for his distinguished work in the promotion and dissemination of art and culture. He has received awards from Cantuta University, Ricardo Palma University, and the municipality of Huaraz City. In 2011, he won the "Guitar Composition Prize Productions d'Oz" in Quebec, Canada. In 2013, he received the "International Composition Prize Casa de las Americas" in Havana, Cuba and an Honorable Mention for the "Ibero-American Composition Prize for Symphonic Orchestra, Ibermusicas", in Buenos Aires, Argentina, in 2014.