Canti di a Terra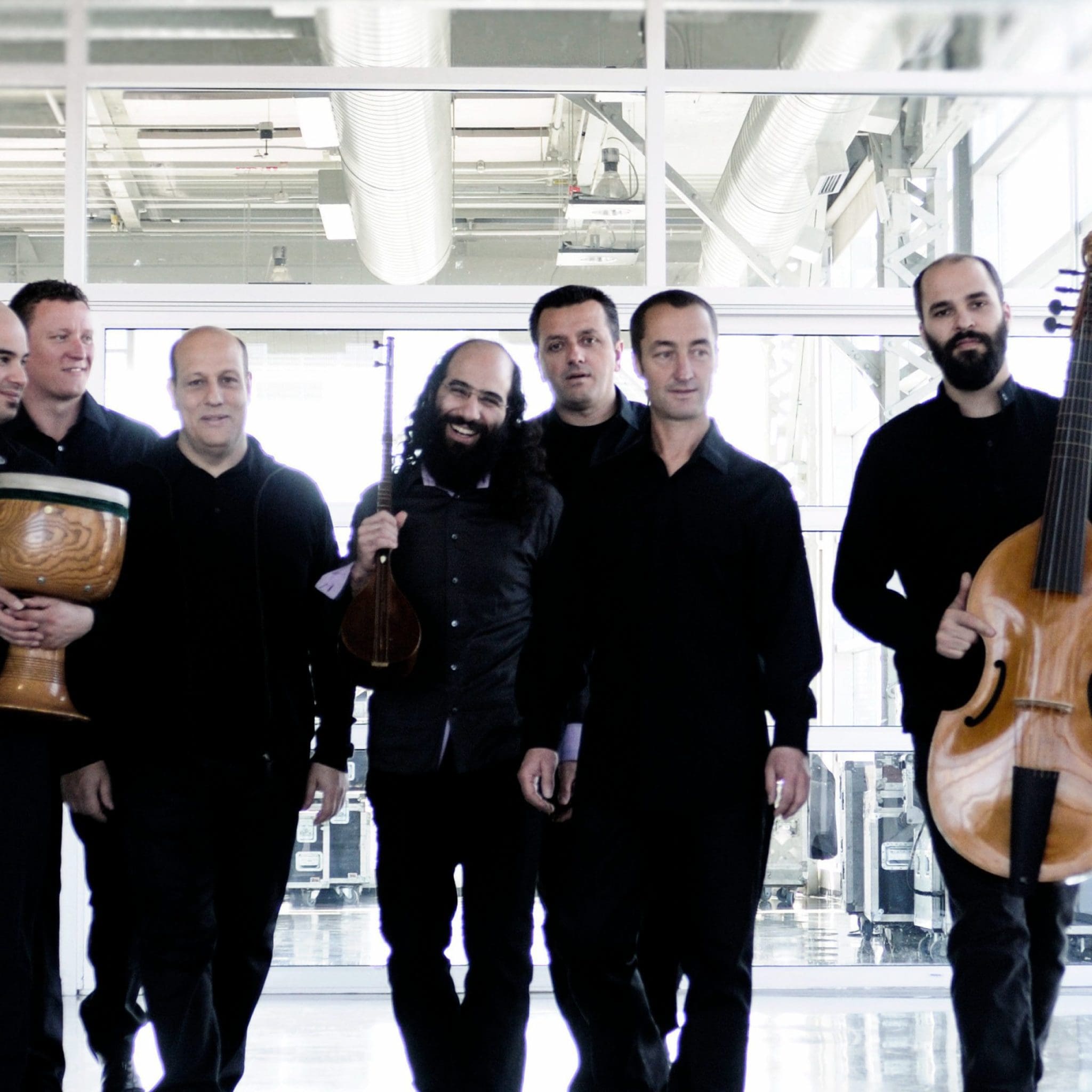 AN ENCOUNTER BETWEEN CORSICAN POLYPHONIES, PERSIAN AND ANCIENT MUSIC
Created in Montreal in November 2008, Canti di a Terra brought together Constantinople and the Corsican vocal quartet Barbara Furtuna. It has since travelled the globe with some twenty performances. A fine way, therefore, of celebrating renewed contacts and hybrid forms of inspiration.
This bold alliance has roots in two lands, two vital sources of contrasting geographies. On the one hand, the insular beauty of Corsica, between land, sky and sea, austere and powerful, embodied in these polyphonic vocals in turn melancholic and festive; on the other, the refinement of the musical and poetic traditions of Persia, which dictated its magical laws to the East.
The common denominator here is certainly their modal form of expression, but even more it is their contemporary language that the Corsican quartet and Montreal trio wished to see converge. "To avoid the traps of juxtaposition (…), to go elsewhere by listening to and understanding the Other (…), to create a fresco that can be viewed as a unique work" (Kiya Tabassian): such is the goal of these exploratory artists, who share an unquestionable sense of harmony.
The musical understanding they developed over the years has here given rise to magnificently accompanied sacred and profane songs, revived lamentes and folias, as well as new co-creations. Deep and vibrant, the music seems to arise from the bowels of the earth…
Concerts archives
2015
29.10.2015 – Hope College Dimnent Chapel, Holland (États-Unis)
28.10.2015 – Milliken Auditorium – Dennos Museum Center, Traverse City (États-Unis)
2014
12.07.2014 – Festival international de musiques sacrées de Fribourg (Suisse)
05.06.2014 – Kollegium St. Fidelis, Stans (Suisse)
25.04.2014 – Théâtre Hector Charland, Assomption (Canada)
23.04.2014 – Salle Bourgie, Montréal (Canada)
2013
24.11.2013 – Espace Prévert, Savigny le Temple (France)
27.10.2013 – Centre culturel de Belœil (Canada)
18.10.2013 – Christ Church Cathedral, Vancouver (Canada)
2012
22.07.2012 – Festival 1001 notes, St-Léonard-de-Noblat (France)
23.07.2012 – Festival Voix d'été en Creuse, Chambon-sur-Voueize (France)
29.07.2012 – Festival de musique Conques, La lumière du Roman (France)
26.04.2012 – Centre culturel de Bouguenais, Nantes (France)
02.04.2012 – Montréal (Canada)
31.03.2012 – Espace Hyperion, Québec (Canada)
28.03.2012 – Théâtre Centennial, Sherbrooke (Canada)
25.02.2012 – Salle Pleyel, Paris (France)
2011
27.07.2011 – Festival Stimmens, Lörrach (Allemagne)
09.04.2011 – Espace culturel Cap Nort, Nort-sur-Erdre (France)
08.04.2011 – Le Carré d'argent, Pontchâteau (France)
07.04.2011 – Muziekpublique, Bruxelles (Belgique)
02.04.2011 – Toronto Consort (Canada)
01.04.2011 – Toronto Consort (Canada)
2010
31.07.2010 – Ottawa Chamber Music Festival (Canada)
30.07.2010 – Festival international d'Orford (Canada)
18.07.2010 – Festival international de musique sacrée de Sylvanès (France)
10.07.2010 – Saison Musicale des Amis de Saint-Guilhem-le-Désert (France)
04.08.2010 – Festival international du Domaine Forget, St-Irénée (Canada)
07.06.2010 – Festival des musiques sacrées de Fès (Maroc)
29.05.2010 – Le Festival de Sully et du Loiret, Sully-sur-Loire (France)
2009
05.07.2009 – Les Orientales, Saint-Florent-le-Vieil (France)
2008
03.11.2008 – Salle Pierre-Mercure, Montréal (Canada)