Sunya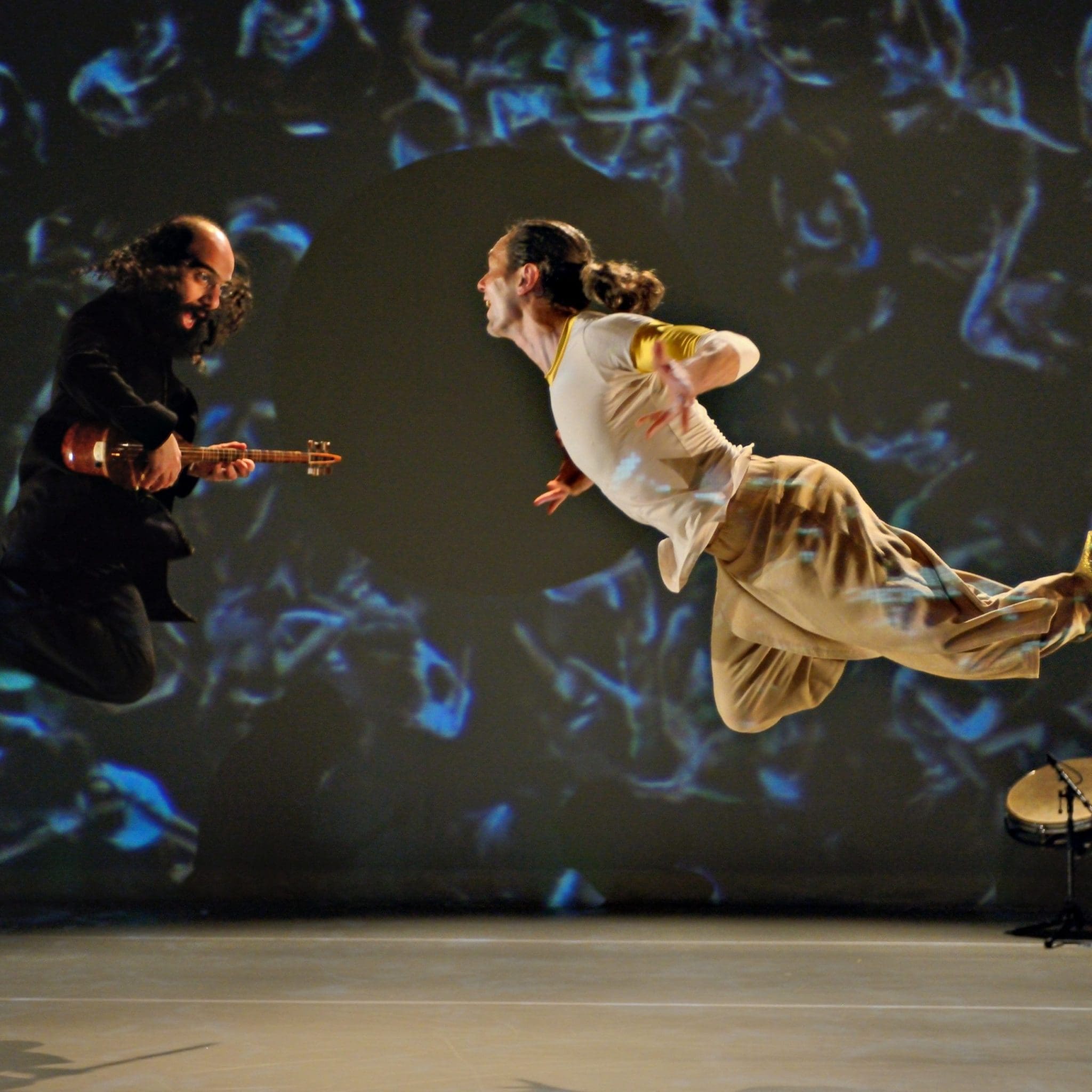 …WHERE MERGE CONTEMPORARY DANCE, MUSIC OF PERSIAN INSPIRATION AND INTERACTIVE VIDEO
Every sound stems from a gesture, but in an abyss of silence, can movement take place? Every expression is based on a memory, but when memory is plural, how does it resonate? And what happens when two artists, a choreographer and a composer, each at the crossroads of cultures, join forces? Starting from both nothing and everything they are made of?
Śūnya (in Sanskrit, "zero" and "number") refers to this fundamental paradox of being, of language, of movement… The movement of exile, the movement of art, hybridization.
Four dancers, three musicians, a sound designer and a video artist experiment here, guided in turn by the Indo-Armenian dancer and choreographer Roger Sinha and Iranian-born gatherer of musical pearls Kiya Tabassian, immersed in dialogue. From the universal quest for identity to the collective epic, a creative gesture like the dreamlike echo of a world reconciled.
Concerts archives
2015
21.11.2015 – Harbourfront Centre, Toronto (Canada)
20.11.2015 – Harbourfront Centre, Toronto (Canada)
19.11.2015 – Harbourfront Centre, Toronto (Canada)
14.11.2015 – The Cultch, Vancouver (Canada)
13.11.2015 – The Cultch, Vancouver (Canada)
12.11.2015 – The Cultch, Vancouver (Canada)
11.11.2015 – The Cultch, Vancouver (Canada)
10.11.2015 – The Cultch, Vancouver (Canada)
06.11.2015 – Port Theatre, Nanaimo (Canada)
18.03.2015 – Théâtre Centennial, Sherbrooke (Canada)
06.02.2015 – Salle Pauline-Julien, Sainte-Geneviève (Canada)
31.01.2015 – Maison des arts de Laval (Canada)
29.01.2015 – Théâtre de la Ville, Longueuil (Canada)
24.01.2015 – Maison de la culture Rosemont Petite-Patrie, Montréal (Canada)
20.01.2015 – Maison de la culture Frontenac, Montréal (Canada)
17.01.2015 – Live Art Dance, Sir James Dunn Theatre, Halifax (Canada)
16.01.2015 – Live Art Dance, Sir James Dunn Theatre, Halifax (Canada)
15.01.2015 – Live Art Dance, Sir James Dunn Theatre, Halifax (Canada)
2014
01.10.2014 – Centre Segal, Montréal (Canada)
2013
27.04.2013 – Danse Danse, Place des Arts, Montréal (Canada)
26.04.2013 – Danse Danse, Place des Arts, Montréal (Canada)
25.04.2013 – Danse Danse, Place des Arts, Montréal (Canada)
24.04.2013 – Danse Danse, Place des Arts, Montréal (Canada)
20.04.2013 – Danse Danse, Place des Arts, Montréal (Canada)
19.04.2013 – Danse Danse, Place des Arts, Montréal (Canada)
18.04.2013 – Danse Danse, Place des Arts, Montréal (Canada)
17.04.2013 – Danse Danse, Place des Arts, Montréal (Canada)