ABOUT

 Pandit Dhruba Ghosh (1957-2017)
Dhruba Ghosh has transformed the traditional classical sarangi of North India into a multidimensional expression. The sarangi is popularly known as "the instrument of a hundred colours" from North India and Dhruba Ghosh is known as one of the leading exponents of this beautiful instrument. At the sarangi festival at Bhopal held in 1989, he was unanimously acclaimed as the revivalist of the sarangi by the nearly 100 sarangi players who had assembled there.
Born in Mumbai in 1957, Dhruba grew up in an atmosphere where his father practised his art and other legendary musicians visited the home frequently like Ustad Ahmedjan Thirakwa (tabla), Ustad Amir Khan (vocal), Pandit Ravi Shankar (sitar), Ustad Ali Akbar Khan (sarod), Nikhil Banerjee (Sitar), and others of that generation. As Dhruba imbibed the intensive discussions between the maestros and the performance of traditional repertoire, he started receiving training in voice and tabla from his father. Later he became the disciple of Ustad Sagiruddin Khan (sarangi), the well known disciple of Ustad Bundu Khan of the Delhi Gharana. Hence by tradition Dhruba belongs to the Delhi Gharana of Sarangi. Later he began receiving training from the veteran vocalist of the Agra Gharana Pt. Dinkar Kaikini. He has also been receiving core gharana material from Ustad Ali Akbar Khan (sarode master of the Maihar Gharana). It may be mentioned that the great flautist Pannalal Ghosh, who was known as the father of classical Hindustani flute, and elder brother of Nikhil Ghosh, was the disciple of Ustad Allauddin Khan of the Maihar Gharana (father of Ustad Ali Akbar Khan).
The master of Sarangi
Dhruba Ghosh is known in India for his performances. The brilliance of his technique, his compositions and his mastery of ragas on sarangi has labelled him as one of the living masters of this complicated instrument. He has greatly furthered the idea of bringing the sarangi to the fully instrumental solo status. He has contributed to several innovations in the technique of playing as well as building up the content of a concert recital.
The spontaneous power of his playing and artistic calibre can be gauged from the fact that after one of his performances, the world famous cellist Maestro Mstislav Rostropovich rushed to the stage to hug him and bless him in Mumbai in 1988.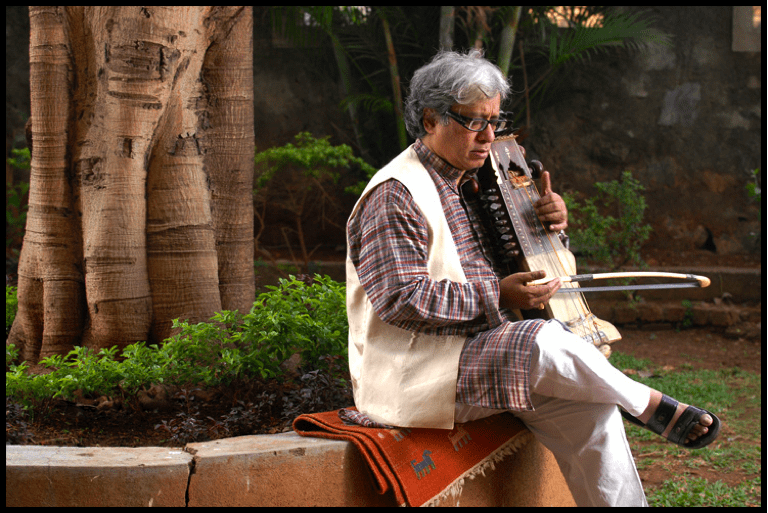 Heavenly sounds, cosmic musicality
Dhruba Ghosh is the inheritor of the tradition of his masters, his father Pandit Nikhil Ghosh, the famed percussionist and pedagogue, the veteran vocalist-composer Pandit Dinkar Kaikini, and the renowned sarangi maestro Ustad Sagiruddin Khan of the legendary Bundu Khan style of Delhi.
Dhruba Ghosh has performed at various music venues and respected festivals in India. In European countries he has performed at the Bratislava International Music Festival, Helsinki International Music Festival, Flanders International Music Festival, Baroque Music Festival- Brussels, Silk Route Festival at Athens. Besides he has performed in several organisations in Belgium, Germany, Switzerland, Czechoslovakia, Italy, Denmark, France and UK. He regularly performs in the US and Japan. He has accompanied great vocalists like Ustad Salamat Ali Khan, Ustad Ghulam Mustapha Khan, Ustad Munawwar Ali Khan, Pt. Dinkar Kaikini, Smt. Shobha Gurtu, Smt Girija Devi and many others.
Dhruba began touring as a sarangi player in 1974 on his father's concert tours and performed in Europe, US, Canada, Australia and the Far East. Since 1991 he has been touring exclusively as a soloist and also in collaboration concerts.
He has been at the core of the formation of a World String Orchestra in Japan involving the traditional bowed instruments of Japan, China, Korea, Uzbekistan and India. He has been successfully collaborating with western classical musicians like Phillipe Pierlot (viola da gamba), Jean Paul Dessy (cello), Francois Deppe (cello), Justin Pearson (cello), Yamashita (jazz – piano), as well as with world music artists. Other artists associated with Dhruba Ghosh are saxophonist Kazutoki Umezu, violinist Aska Kaneko, pop singer EPO, drummer Kiyohiko Senba, traditional shamisen maestro Hidetari Honjo and Uzbek Gidjak maestro Khashimojon Ismailov.